UCHS Welcomes New Leadership for 2016-17 School Year
9 days ago
New faces will be in old places at University City High School for the start of the 2016-17 school year. Susan Hill, formerly an assistant principal at University City High School for the past four years, is now Principal. Mark Basi, former District mathematics coach for teachers at UCHS and Brittany Woods Middle School, is one of two new assistant principals. New to the District are T- Herbert Jeffrey I, assistant principal, and Dr. Samuel T. Martin, IV, dean of students, a newer role at the high school.
Prior to University City, Basi was a mathematics teacher for nine years in the Parkway and Pattonville school districts.

Jeffrey most recently served as a middle school assistant principal with the St. Louis Public Schools. He has more than 13 years of experience as a building leader including serving as assistant principal in both Normandy and Hazelwood schools and as principal in the Jennings School District.

Martin, a UCHS alum, has worked for the past eight years as a counselor with the Columbia Public Schools in Columbia, Missouri. In his role as dean of students, Martin will focus extensively on college preparation initiatives and transition programs for incoming freshmen to assure their success.
Contact Us
9 days ago
University City High School
(note: Lieberman Learning Center information below)
Home of the Lions
7401 Balson Avenue
University City, MO 63130

Office: 314-290-4100
Attendance: 314-290-4118
Athletics: 314-290-4116
Fax: 314-290-4120
Principal: Susan Hill - email: shill@ucityschools.org
Secretary: Bella Quintal - email: bquintal@ucityschools.org

Assistant Principal: T-Herbert Jeffrey, Sr - email:
tjeffrey@ucityschools.org
Dean of Students: Dr. Samuel T. Martin, IV - email:
stmartin@ucityschools.org
School day starts at 7:25 a.m. and ends at 2:20 p.m.
Early release time is 11:55 a.m.

From Drab to Fab! Classroom Makeover at University City High School is a Hit
9 days ago
University City High School teacher Erin Bratkowski's classroom is the place to be thanks to a new makeover funded through Donors Choose and the Bill and Melinda Gates Foundation.

Erin Bratkowski, a teacher at University City High School, loves the ambiance of her favorite coffee shop. What would happen, she wondered, if she could bring ambiance and diversity into her classroom? From that wandering thought came a project to transform her classroom that was fully funded thanks to Donors Choose.

"My students need a variety of seating to help make reading more engaging and comfortable. Just look at the variety people are offered when they go into a coffee shop," Bratkowski wrote on her Donors Choose page.


"My students are a very social group and I try to promote reading as a social activity but it is hard to do when you have a boring old desks and chairs. And like all people they want to be comfortable when they work, she added."
Comfort and community were foremost in Bratkowski's mind when designing her new classroom space. In her request she asked for new tables, comfortable seating, bright rugs and task chairs for her students. On Friday, the items were delivered to the high school thanks to the generosity of members of the community and matching funds from the Bill and Melinda Gates Foundation.
Read the article below excerpted from Donors Chose to learn more about Erin Bratkowski's project:

For some students it is about filling the gaps, while others just need to find "that" book to love and engage in. I have found the money to fill my selves with a variety of books written at different levels, now, I just need to make my room comfortable. When I go into Starbucks people are reading or working in different types of seating. I want learning to be like going to a coffee shop!

I found tables to help make my room more fit for collaborative learning. But I admit sitting in the students' chairs are not comfortable. How can I expect them to learn when they aren't comfortable? So I'm requesting funds to purchase a variety of chairs to be used at the tables from office chairs to stools and even balance balls. Then to add to the atmosphere of the room, I would like some area rugs. And one of my tables is a bit small for 4 near grown students and sits at the back of the room, so two students' back are always facing the front of the room. Therefore, I'm also seeking two bar height tables that can comfortably hold 2 students each that will allow all students to see the front of the room comfortably. Some of my students suffer from ADD and I've been researching for ways to help keep them focus. And I believe balance balls to be the thing that can keep their focus while kind of sitting still.
Companies like Google and Facebook don't have typical work space because it discourages creativity and thinking out of the box. If I want my students to be readers and thinkers for the 21st century, I know a comfortable and creative learning space would help.
University City Homecoming 2016
9 days ago
Students, families, friends and alumni are anxiously anticipating homecoming festivities set for October 1, 2016. This year's theme is "Under the Big Top." The homecoming parade steps off at 10am in the Delmar Loop and proceeds along the traditional route along Delmar to Hanley Road and into the stadium. Parade entry applications are now available. (Click here for Parade Entry Form.)

For more information about homecoming activities, contact us at communications@ucityschools.org.
Monsanto Fund Grant Supports Elementary STEAM
9 days ago
The School District of University City has been awarded a $55,000 grant from the Monsanto Fund's K-12 Math & Science program to support STEAM initiatives in kindergarten, third and fifth grades. The initiative, titled U-Design Primary, provides students with authentic STEAM (Science, Technology, Engineering, the Arts and Math) experiences through the use of Motorized Mechanisms, We Do, and EV3 Lego Education modules. The modules, in collaboration with district's Elementary Science Curriculum, will strengthen STEAM confidence and aptitude.
U-Design will enhance students' abilities to engage in the engineering design process (ask, imagine, plan, create, improve) to program and design robots during the school day connected to their Forces and Interactions science unit.
"We believe that integrating STEAM experiences through the teaching of the design process, leads to 21st century career-ready and innovative citizens who demonstrate the ability, confidence and inclination to deepen problem solving skills," said Beverly Velloff, math and science curriculum coordinator.
The Monsanto Fund's Math & Science Education K-12 grant program is designed to support programs in the St. Louis region that inspire and nurture students' interest in math and/or science, offer innovative approaches to teaching or learning in math and science, and foster student achievement in math and/or science. Priority is given given to programs using evidence-based methodology.
UCHS Culinary Arts Program Serving Up Headlines
9 days ago
Family and Consumer Arts instructor Kylee Strohm reviews lesson plans for a recent cooking lab session at UCHS. The culinary arts program was recently featured on KMOV's News 4 Schools. (Photos by Patricia Washington)
The students in Kylee Strohm's culinary arts classroom at University City High School are making more than meals—they are making an impression. Strohm and her students were recently featured on KMOV's News 4 Schools segment and as reporter Brian Feldman discovered, the program is growing by leaps and bounds.
"When I first started teaching we had only four sections and we were only doing book work; we didn't use the labs," Strohm said. "Now we have 14 sections and we cook a lot. The program has grown tremendously."
Strohm, a Family and Consumer Arts teacher, has also grown as an instructor. She recently completed the fourth and final level of the National Restaurant Association's ProStart program. ProStart is the curriculum written by the National Restaurant Association that is taught in Culinary Arts I and Culinary Arts II. During Summer Institutes, educators have the opportunity to earn restaurant/foodservice educator certification, learn from faculty composed of nationally recognized content experts, network among peers, tour restaurant and foodservice facilities and receive classroom materials.
" I truly appreciate the District allowing me to do this as professional development. I learned a lot," Strohm said.
Strohm is continuing to learn and so are her students. Chanae Freeman, a senior, is going to culinary school due in large part to the influence of Kylee Strohm.
" I've learned a lot from her. I always enjoyed cooking and cook a lot for my family but I was torn about a college major," Freeman said. "I have switched to culinary arts and I probably wouldn't have without this class."
Freeman plans to attend Hickey College to continue her culinary arts education close to home.
"We have had at least 10 students over the past five years go on to study culinary arts in college. " Strohm said. "I have one student at Forest Park who calls me all the time to tell me the things they are teaching he already learned here at U City."
Click here to watch the KMOV News 4 Schools feature.
A student in the culinary arts program selects ingredients for the day's meal.
Students prepare for the day's cooking lab activity in Kylee Strohm's culinary arts class at University City High School.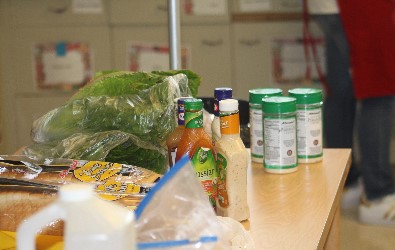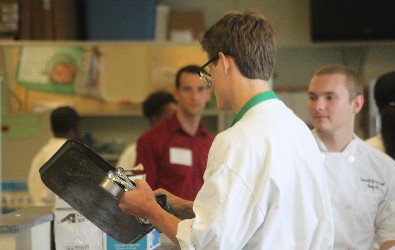 About University City High School
9 days ago
University City High School (The U!) serves students in grades nine through twelve in the School District of University City.
School Mission
The UCHS staff works with all students to promote intelligent thinking, responsible choices, and lifelong learning for productive citizenship.
Rigorous Curriculum
University City High School offers rigorous courses to challenge students.
Advanced Placement (AP) Courses: Language and Composition, Literature and Composition, Biology, Chemistry, Physics, Government, World History, U.S. History, Calculus, Latin, Spanish and Studio Art.

Honors Courses: Literature and Composition, Algebra, Algebra II, Geometry, Chemistry, World History and U.S. History.
Dual Enrollment: Students may enroll in a variety of courses through UMSL, Harris Stowe, and St. Louis Community Colleges (STLCC). Students can also receive dual credit when enrolled in Intermediate Algebra and Human Anatomy and Physiology.
Articulated Credit with STLCC: Computer Applications, Web Design, Drafting Design, Accounting, Child Development, Culinary Arts, and Engineering.
Project Lead the Way (engineering and drafting)
Foreign Language Courses: Four year coursework in Spanish, French and Latin. Languages are also offered at Brittany Woods Middle School.
WashUCity Design Project: Graphic design collaboration with Washington University in St. Louis
Award Winning Journalism Program: Students annually receive high honors including School Publications-St. Louis and Scholastic Journalism at MIZZOU.
One-to-One Technology Initiative: All students have Chromebooks to use for educational purposes in the classroom.
Successful continuing initiatives

Arts Residencies - includes instructors from Center of Contemporary Arts and Returning Artists series.
Bridges – a summer acceleration program for students transitioning from eighth grade to high school.

LifePlan – a mentoring program with trained and qualified facilitators, a proven curriculum and discovery learning to help students shape their lives in positive ways.
Men of Valor and Determined Strong Women
Real Talk – a youth development program aimed at preventing gang participation.
Academic Improvement Program – a support program for student athletes. Students are assigned to the program based on their grades from the previous semester. All freshmen athletes are required to attend at least once a week.
A+ Program – a Missouri program that allows students to qualify to apply for tuition assistance for 2- and 4-year colleges by fulfilling GPA, attendance, citizenship and volunteer tutoring requirements.
U-Serve – the community service component of UCHS offers multiple opportunities for students to become active volunteers and take leadership roles in community activities.